23e Ancient Music Festival La Folia
25 – 29 mai 2023
"MUSICAL OFFERINGS"
Ambrosio, Atteignant, Bach, Bartlet, Böddecker, Biber, Buxtehude, Campion, Danyel, Dowland, Dufaut, Dumont, Isaac, Lambert, Le Camus, Monteverdi, Ortiz, Pilkington, Schütz, Vivaldi… A true anthology of composers waiting for you at this year's Folia ! Vocal, instrumental music, soloists, choral, German, Italian, English, French music of medieval, renaissance, and baroque styles, famous tunes as much as unknown, stars and wonderful discoveries … There will be something for every auditor! This is the Folia Festival's mission: please our public for sure, but surprise, awaken, have every auditor dream and be enriched.
These intense emotions we have been sharing on both sides of the stage for the last 23 years in Rougemont prove how much ancient musical repertoire is as unfailing as unforgettable. Presenting every year such musical diversity in such a beautiful place as Saint-Nicolas Church in Rougemont is our mantra, our offering.
We deeply thank all our sponsors, partners, friends, volunteers, and, of course, our faithful public. Without all of them – all of you, The Folia would simply not exist.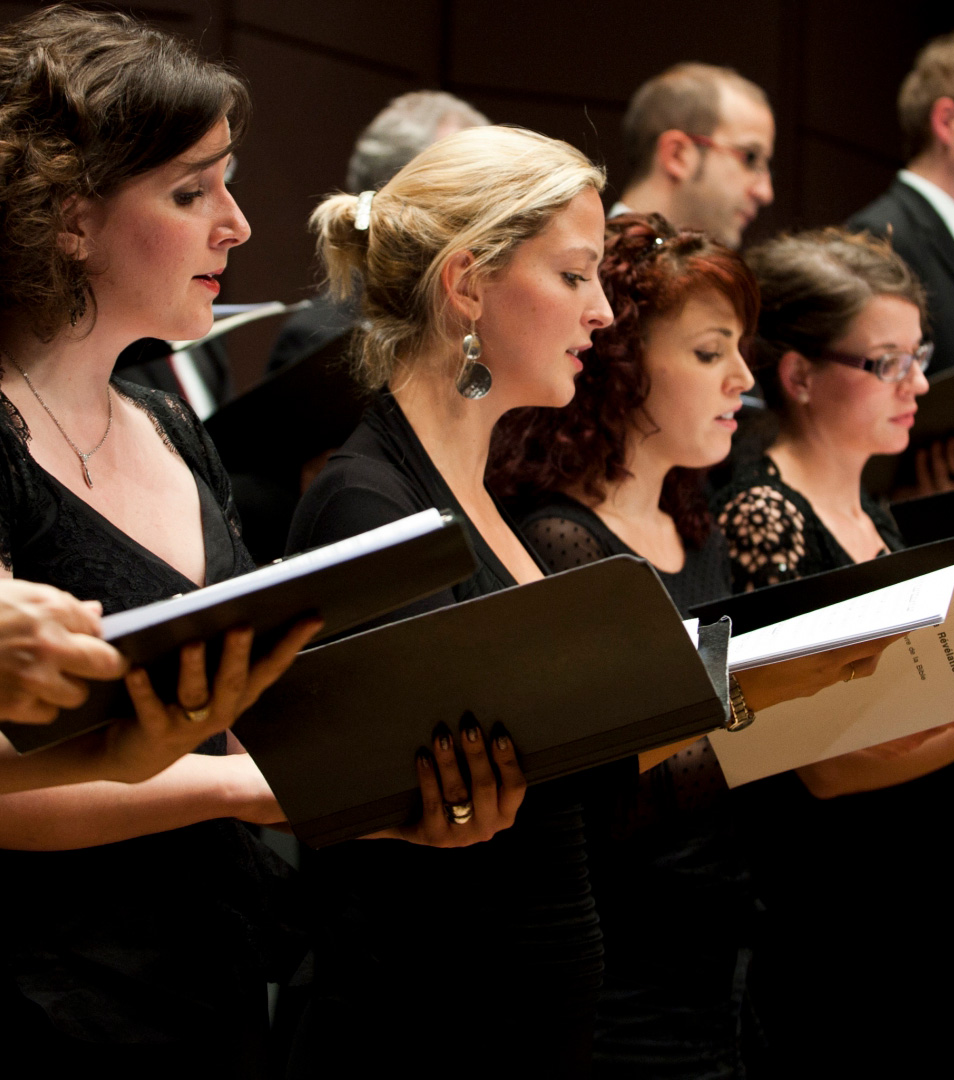 Thursday, May 25, 2023 – 20h00
"BETWEEN TWO GLOWS"
From Monteverdi to Schütz
ENSEMBLE VOCAL DE LAUSANNE
16 singers and 3 instrumentalists
Daniel REUSS direction
Heinrich Schütz (1567-1643) :
Die mit Tränen säen SWV 378
Selig sind die Toten SWV 391
So fahr ich hin zu Jesu Christ SWV 379
Die Himmel erzählen SWV 386
Tröstet tröstet mein Volk SWV 382 
Claudio Monteverdi (1567-1643) :
Magnificat a 8 voci SV 281 (extract of Selva morale e spirituale)
Heinrich Schütz :
Cantiones sacrae – Quid commisisti, o dulcissime puer SWV 56-60 
Claudio Monteverdi :
Gloria a 7 voci SV. 258 (extract of Selva morale e spirituale)
The Lausanne Vocal Ensemble is back to Rougemont with sixteen of its choral singers. On the program is a dialogue between Heinrich Schütz and Claudio Monteverdi. An ideal program for the nearly millennial vaults of Saint Nicolas Church. On one hand, the most Italian master of German renaissance, who brought from Venice the first opera and the first oratorio to Germany. And, on the other hand, a major figure who hinged Italian renaissance and early baroque, incarnated by the treasures of his Selva morale e spirituale.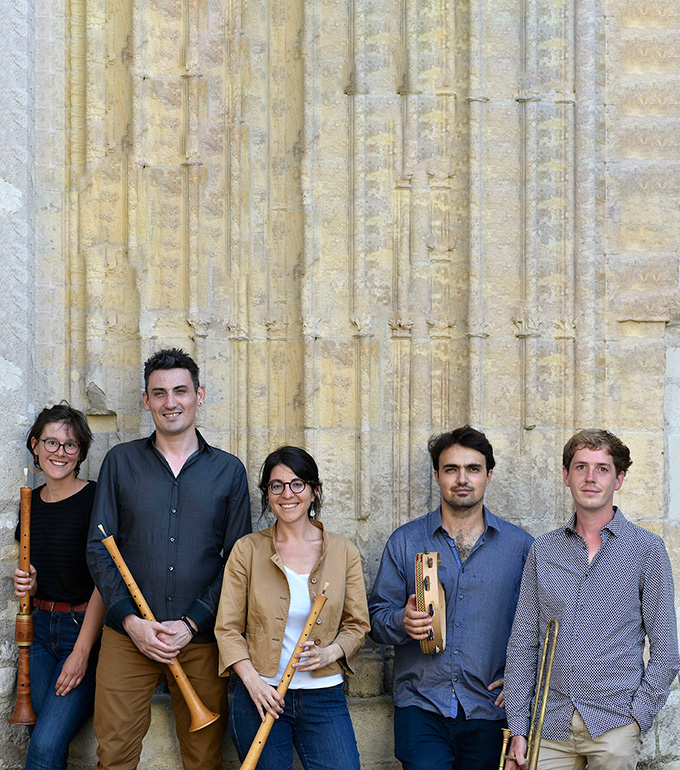 Friday, May 26, 2023 – 19H30
"AT THE ORIGINS OF DANCE"

INTO THE WINDS
Anabelle GUIBEAUD chalemia, recorders
Rémi LÉCORCHÉ buisine, slide trumpet, sacquebout, recorders,
Marion LE MOAL bombards, recorders
Adrien REBOISSON chalemia, bombards, recorders
Laurent SAURON percussion
Works by Domenico da Piacenza (1390-1470), Heinrich Isaac (1450-1517), Jacob Obrecht (1457-1505), Vincenzo Ruffo (1508-1587), Diego Ortiz (1510-1570), Pierre Attaingnant (1494-1552) and other anonymous dancing masters of the Middle Ages and the Renaissance.
Dance, a universal and timeless art, is at the heart of this program, with the exploration of its origins in Occident. From estampies, ductias, saltarelles and other medieval, forgotten dances, to branles from the French court, through the noble renaissance basse-danse, Into the Winds, a young instrumental ensemble, will make us discover the development t of this expressive art, capable of moving the heart of yesterday's dancer as much as that of today's auditor. It willl be difficult to resist burning the dancefloor.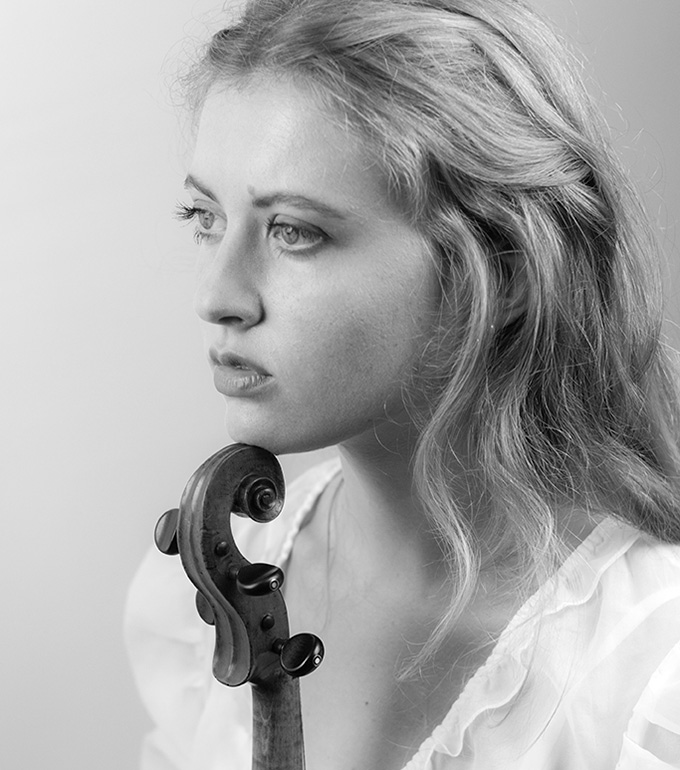 Saturday, May 27, 2023 – 11h00
Louise AYRTON solo violin
Lucie CHABARD harpsichord
Alice TROCELLIER viola da gamba
Etienne GALLETIER theorbo
Johann Sebastian Bach (1685-1750) Chacon of Partita in D minor
Heinrich Biber (1644-1704) Sonata 3 in F major C.140
Dietrich Buxtehude (1637-1707) Sonata in A minor BuxWV 272
Philipp Friedrich Böddecker (1607-1683) Sonata in D minor
Anonym Contrapunct sopra la Bassigaglos d'Altr., or Variations on the choral « Wie schön leuchtet der Morgenstern »
The first time she played in Rougemont in 2021, with the Poème Harmonique, Louise Ayrton charmed us with her passionate interpretation. It became obvious to invite her back this year with a program she has been dreaming of: she will take us on a retrospective journey through a century of the violin's evolution, from the 18th century's virtuosity to a more collaborative role of the violin in the 17th century. An original idea for a unique concert!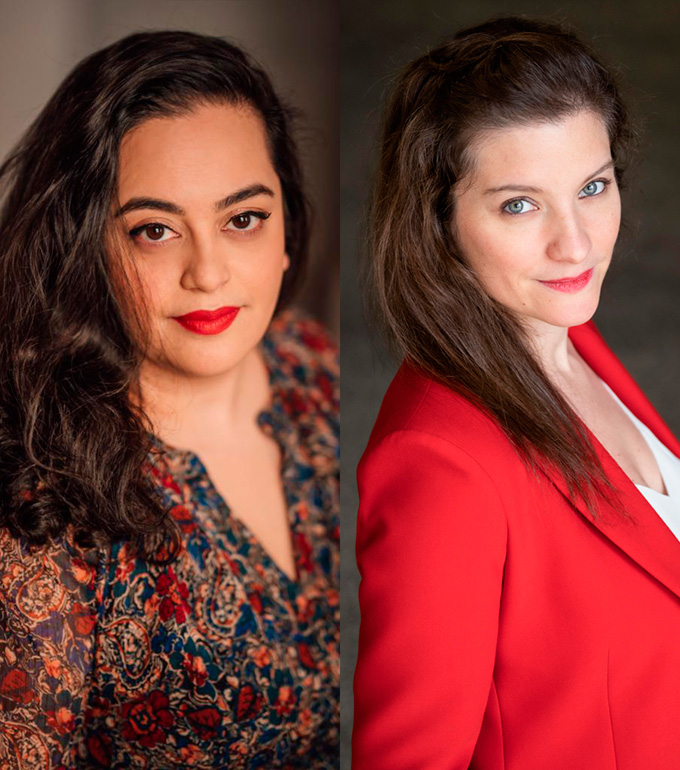 © Julien Benhamou et Miss Buffet froid
Saturday, May 27, 2023 – 19h30
IL CARAVAGGIO 
Anthéa PICHANICK contralto
Camille DELAFORGE harpsichord and direction
Roxana RASTEGAR violin
Anne CAMILLO violin
Delphine MILLOUR alto
Patrick LANGOT cello
Benjamin NARVEY theorbo and guitar
François LEYRIT bass
Program devoted to Antonio Vivaldi (1678-1741) : 
Cessate omai cessate (cantata for contralto) 
Concerto in G major, RV 312 
Parlano a questo core 
Ferri, Ceppi, Sangue (« L'Incoronazione di Dario »)  
Concerto in A minor RV 356, L'Estro Armonico : Allegro, Largo, Presto 
Di verde ulivo (« Tito Manlio »)
Non cada non pera (« Tito manlio », alternate aria) 
Concerto RV 121 : Allegro, Adagio, Presto 
Fra cieche Tenebre (« Nerone fatto Cesare »)  
Di se senti (« Nerone fatto Cesare »)  
Sinfonia, (« L'incoronazione Di Dario ») : Allegro 
Se lento ancora il fulmine (« Argippo »)  
Concerto in G mineur, RV 156 : Lento
Gelido in Ogni vena (« Farnace »)  
Con la face di Megera (« Semiramide »)
Opera composer as much as a concerto composer, Antonio Vivaldi marked his time beyond borders. Inspiring Bach who adapted a part of the Estro Armonico (in this program), Vivaldi inherited from a lyrical tradition and orchestration often throwing light on soloist instruments as the violin or the bassoon. With this Vivaldi concert, proposing well-known pages as well as rare or unknown ones, all of them seductive and flamboyant, the ensemble Il Caravaggio, together with the contralto, Anthéa Pihcanick, may electrify Rougemont's Saint Nicolas Church.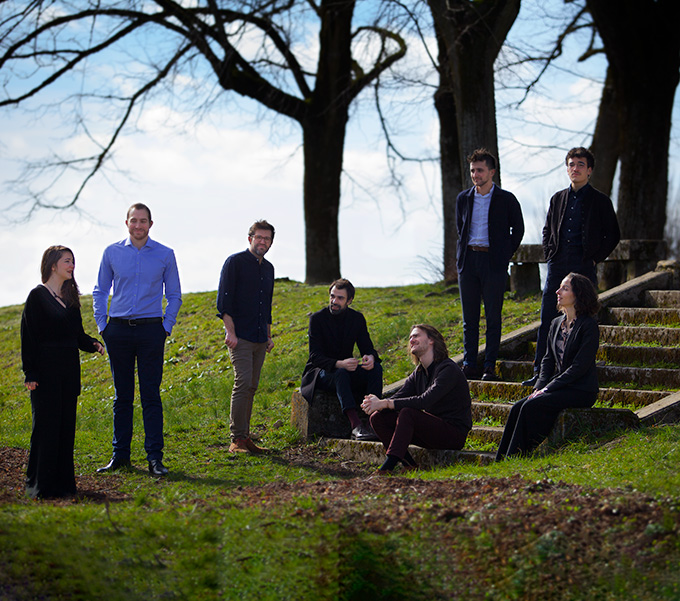 Sunday, May 28, 2023 – 19h30
ENSEMBLE PRES DE VOTRE OREILLE
Anaïs BERTRAND mezzosoprano 
Paul FIGUIER countertenor
François JORON tenor
Cyril COSTANZO bass
Simon WADDELL luth, Renaissance lute and cittern
Ronan KHALIL virginal 
Marion MARTINEAU viola da gamba 
Robin PHARO viola da gamba and direction
Polyphonic songs from John Dowland (1563-1626), Thomas Ford (1580-1648), Robert Jones (1577-1617), Thomas Campion (1567-1620), etc.

Blessed Echoes is a faint memory of past times, an homage to the great 16th century British tradition of the Lute Song, a profane repertoire intended to be interpreted by musical amateurs. Près de votre Oreille would like to deepen its interest for Elizabethan vocal music, intimate and majestical the same time, and will present some of the songs written for four singers accompanied by two viola di gamba, a lute and a virginal.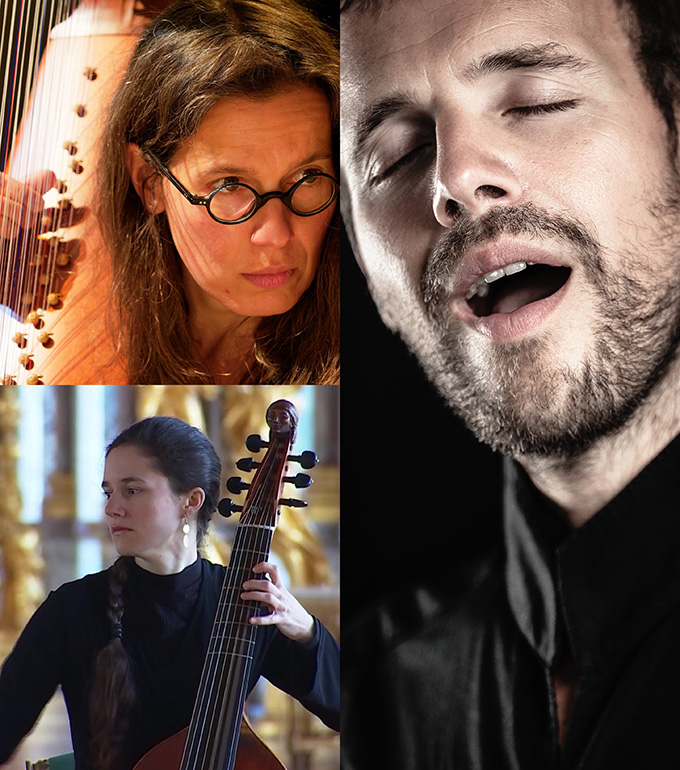 © Patrick Charbon, Laurent Grigord
Monday, May 29, 2023 – 11h00
"JE M'ABANDONNE À VOUS"
Tunes written on the basis of poems by the Countess De La Suze
Marc MAUILLON ténor 
Angélique MAUILLON harp
Myriam RIGNOL viola da gamba
Tunes by Sébastien Le Camus (1610-1677), Michel Lambert (1610-1696), Bertrand de Bacilly (1621-1690), Henry Du Mont (1610-1684), etc., written on the poèmes by the Countess De La Suze (1618-1673)
Henriette de Coligny, Countess De La Suze, was not only a much-admired literary woman. As a free woman, she married her great love, and obtained to be "unmarried" from her second husband who was imposed on her after the death of her beloved first husband. In a trio with Angélique Mauillon and Myriam Rignol, Marc Mauillon will introduce her precious and poetic universe, blending tenderness and most unexpected boldness, inspiring many Grand Siècle composers … and beyond.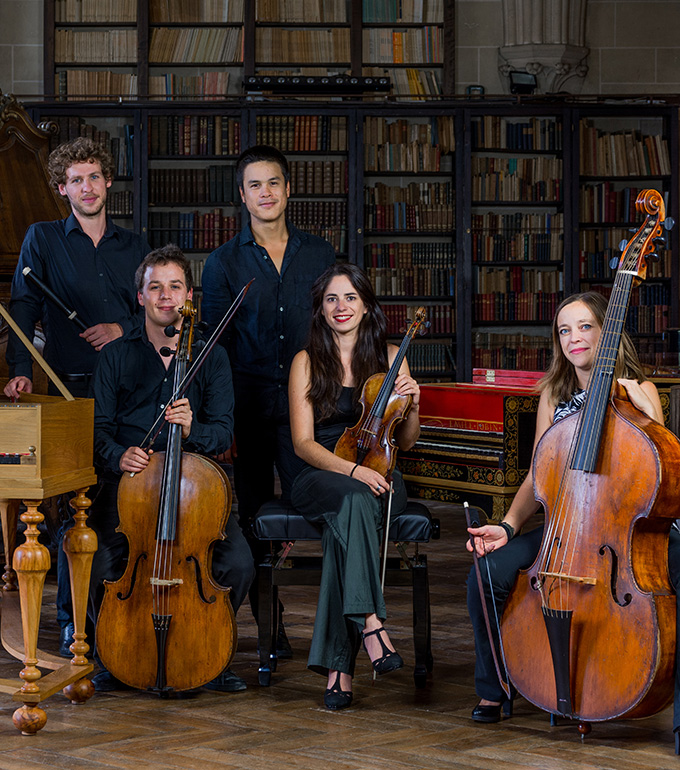 LE PETIT TRIANON
Amandine SOLANO violin
Sarah VAN OUDENHOVE viola da gamba 
Cyril POULET cello
Olivier RIEHL traverso
Jean-Luc HO harspichord
Carl Philipp Emanuel Bach (1714-1788) Trio sonata for flute, violin and continuous bass in D minor Wq.145  
Johann Sebastian Bach (1685-1750) The Musical Offering
Of the Bach family, father and son, please! For the festival's closure, Jean-Luc Ho and Le Petit Trianon will swing from Johann Sebastian Bach's former "baroque" world and the new "gallant" world of Carl Philipp Emanuel Bach by playing in the same concert the magnificent Trisonata in D minor by C.P. E. Bach and the musical monument, The Musical Offering, by J.S. Bach. Ingeniously combining cannons, fugues and trisonatas, the latter work is simply the masterpiece of the baroque counterpoint. Is there a better way to conclude the 23rd edition of La Folia?
Le Festival La Folia bénéficie du soutien précieux de nombreuses institutions, sponsors, partenaires et privés, sans lesquels la manifestation ne pourrait tout simplement pas avoir lieu. Qu'ils soient ici chaleureusement remerciés !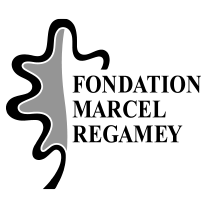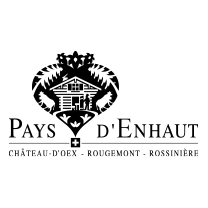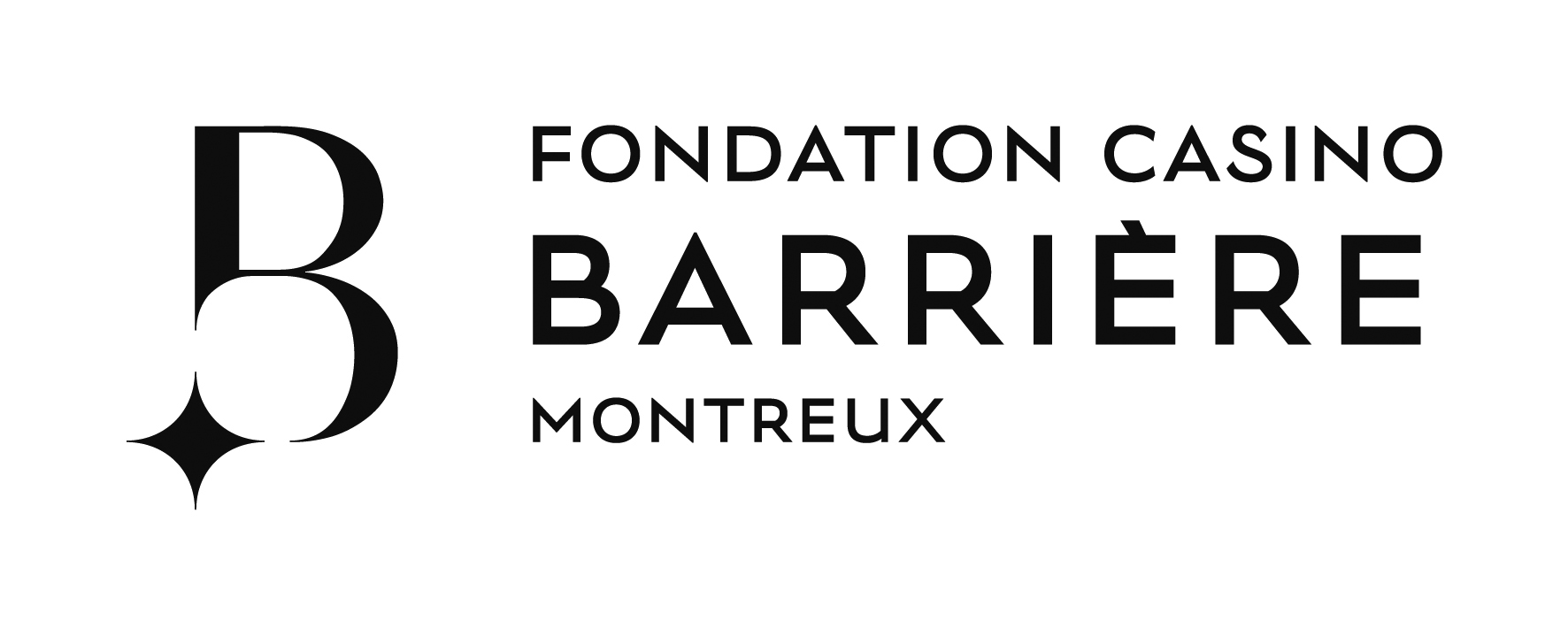 Festival La Folia
Pays-d'Enhaut Région
Route de la Croisette 16
CH-1659 Rougemont (Suisse)
T. +41 26 925 11 62
contact@festival-la-folia.ch
©2021 Festival La Folia
Le Festival La Folia bénéficie du soutien précieux de nombreuses institutions, sponsors, partenaires et privés, sans lesquels la manifestation ne pourrait tout simplement pas avoir lieu. Qu'ils soient ici chaleureusement remerciés !
Festival La Folia
Pays-d'Enhaut Région
Route de la Croisette 16
CH-1659 Rougemont (Suisse)
T. +41 26 925 11 62
contact@festival-la-folia.ch
©2021 Festival La Folia